Voices From Africa: African Farmers & Environmentalists Speak Out Against a New Green Revolution in Africa
For Immediate Release: March 2, 2009
Contact: Anuradha Mittal, (510) 469-5228; [email protected]
A New Report Issues a Challenge to Western-led Plans for a GE Revolution in Africa
Voices From Africa: African Farmers & Environmentalists Speak Out Against a New Green Revolution in Africa
Oakland, CA: A new report from the Oakland Institute, Voices from Africa: African Farmers & Environmentalists Speak Out Against a New Green Revolution in Africa, issues a direct challenge to Western-led plans for a genetically engineered revolution in African agriculture, particularly the recent misguided philanthropic efforts of the Gates Foundation's Alliance for a New Green Revolution in Africa (AGRA), and presents African resistance and solutions rooted in first-hand knowledge of what Africans need.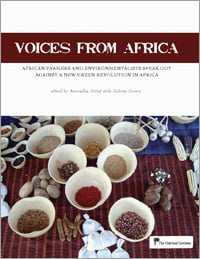 The report finds a lack of accountability, transparency, and stakeholder involvement in philanthropic efforts such as AGRA. "Despite the Gates Foundation's rhetoric of inclusion and the claim that their investment in agricultural development benefits the growing majority of the world's poor who rely on agriculture, a leaked Gates Foundation confidential report on their Agricultural Development Strategy for 2008-2011 actually emphasizes moving people out of the agricultural sector," said Anuradha Mittal, Executive Director of the Oakland Institute and the editor of the report. "Their intention is to reduce dependency on agriculture, but their strategy report does not specify where or how this new 'land mobile' population is to be reemployed," she continued.
AGRA claims to be an "African-led Green Revolution," and features Kofi Annan at the helm as its chairman; however, African civil society has rejected the idea that one man can speak on behalf of over 50 countries and 680 million people. It is also not apparent from the foundation's Agricultural Development Strategy report whether--or how--the Gates Foundation consulted with African farmers before launching their multi-million dollar development strategy for the continent. Some of the foundation's external advisors have long partnered with biotech companies: for example, Ruth Oniang'o is featured on Monsanto's website claiming that there is an urgent need for food biotechnology in Africa, and Gates Foundation potential grantee Calestous Juma has urged the G8 to put biotechnology on the agenda for for Africa and discard the application of the precautionary principle because it interferes with the development of new technologies.
"Africa does not need dumping of food aid by rich countries that destroys local efforts to produce. Not the imposition of industrial-style agriculture based on chemicals and 'high-yielding' seeds, with the paradoxical outcome of greater production of a few food crops accompanied by even worse hunger and environmental degradation," said Diamantino Nhampossa, a contributor to the report and Executive Coordinator of the União Nacional de Camponeses (National Peasants Union) in Mozambique and member of the Via Campesina's International Coordinating Committee for the Africa Region.
The battle over genetic engineering is being fought across the world, between those who champion farmers' rights to seeds, livelihood, and land, and those who seek to privatize these. While promotional campaigns for technological solutions to hunger regularly feature a handful of African spokespeople who drown out the genuine voices of farmers, researchers, and civil society groups, there is widespread opposition to genetic engineering and plans for a New Green Revolution for Africa. Voices From Africa is based on the essays and statements of leading African farmers, environmentalists, and civil society groups, and brings to light the real African perspectives on technological solutions to hunger and poverty on the continent--and the solutions that the people on the ground believe would bring true development.
The increase in hunger resulting from 2008's steep increase in food prices has been used to make a case for increasing agricultural production through technical solutions such as genetically engineered crops. This "poor washing"--the spurious claim that technology will address the needs of the hungry--and "green washing"--the claim that this technology will help address the threat of climate change--conveys a false sense of need. Voices from Africa clarifies how solutions to hunger and environmental degradation require a paradigm shift that values local and traditional knowledge and biodiversity, opens policy space for developing countries to craft their own solutions, and allows for agriculture and trade policies that protect local and regional markets for small farmers, pastorlists, and fisherfolk. "The way to fight poverty in Africa is to embrace the proposal of food sovereignty that comes from the movement of peasants, indigenous peoples, migrants, women, and rural communities," said Mr. Nhampossa. "Food sovereignty puts those who produce, distribute, and consume food at the heart of food systems and policies, rather than the demands of markets and corporations."
Other voices featured in the report include: Mariam Mayet, African Center of Biodiversity, South Africa; Ibrahima Coulibaly, Coordination Nationale des Organisations Paysannes du Mali (CNOP), Mali; Nnimo Bassey, Environmental Rights Action, Nigeria; David Fig, BioWatch, South Africa; Mukoma Wa Ngugi, BBC Focus on Africa Magazine; Makhathe Moahloli, Katleho Moho Association (KMA), Lesotho; Zachary Makanya, Participatory Ecological Land Use Management Association (PELUM), Kenya; and Gertrude Kenyangi Kabusimbi, Support for Women in Agriculture and Environment (SWAGEN), Uganda.
Voices from Africa:African Farmers & Environmentalists Speak Out Against a New Green Revolution in Africa is a publication of the Oakland Institute (www.oaklandinstitute.org), a think tank for research, analysis, and action whose mission is to increase public participation and promote fair debate on critical social, economic, and environmental issues in both national and international forums.
Download
voicesfromafrica_full.pdf
Download
voicesfromafrica_intro.pdf