U.S. Universities, Investors Accused Of 'Land Grabs' In Africa
Originally published by The Huffington Post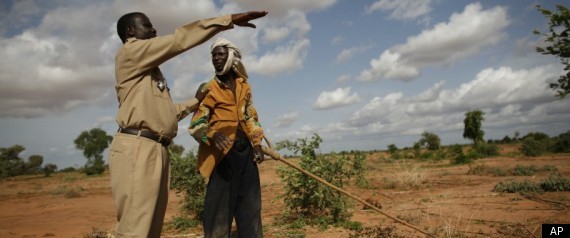 A recent report claims wealthy U.S. and European investors are buying up large amounts of territory in Africa, without proper contracts, and in ways that could actually force thousands of people off their land.
According to the Guardian, researchers for Oakland Institute, the California-based think tank that released the report, said while the deals are often presented as "agricultural investment" that will yield economic funds and create jobs in developing countries, they are nothing more than "land grabs" that fail to return the promised benefits.
More, the report said these investments in land are actually resulting in food insecurity, the displacement of small farmers, environmental devastation, water loss, and the further impoverishment and political uncertainty of African nations.
A spokesman for London-based Emergent, an asset management company that's channeling most of the money and is run by former JP Morgan and Goldman Sachs curreceny dealers, said these arrangements are made with honest intentions, reports the Guardian:
"We are investing in African agriculture and setting up businesses and employing people. We are doing it in a responsible way…The amounts are large. They can be hundreds of millions of dollars. This is not landgrabbing. We want to make the land more valuable. Being big makes an impact, economies of scale can be more productive."
However, Anuradha Mittal, executive director of the Oakland Institute, said these are the same financial firms that ruined our economy, reports Alternet:
"The same financial firms that drove us into a global recession by inflating the real estate bubble through risky financial maneuvers are now doing the same with the world's food supply. In Africa...this is resulting in the displacement of small farmers, environmental devastation, water loss and further political instability."
In addition to hedge funds and speculators, several American universities, including Harvard, Vanderbilt, and Iowa universities, are also providing funds and contributing to "the conversion of African small farms and forests into a natural-asset-based, high-return investment strategy," reportsCBS. Researchers believe these investors expect returns of 20 to as much as 40 percent, reportsBBC.
Obang Metho, a member of the Solidarity Movement for New Ethiopia, said these deals look more like business models than philanthropy, reports CBS:
"No one should believe that these investors are there to feed starving Africans, create jobs or improve food security. These land grab agreements -- many of which could be in place for 99 years -- do not mean progress for local people and will not lead to food in their stomachs. These deals lead only to dollars in the pockets of corrupt leaders and foreign investors."