Palm Oil Plantation Cuts Core From Cameroon's Biodiversity
Source
Environmental News Service
YAOUNDE, Cameroon, September 6, 2012 (ENS) – A biodiversity hotspot in Cameroon and sustainable palm oil in general are threatened as the developer of a large palm oil plantation quits the organization that sets environmental standards for the palm oil industry, warn conservationists.
New York-based Herakles Farms plans to develop a 70,000 hectare oil palm plantation in an area of Cameroon's Southwest Province now covered by species-rich rainforest and surrounded by two national parks, a forest reserve and a wildlife sanctuary.
On Tuesday, the Roundtable on Sustainable Palm Oil, RSPO, announced that Herakles had resigned. A multi-stakeholder membership organization based in Malaysia, RSPO seeks to bring the palm oil industry to sustainability by requiring members to uphold strict environmental guidelines, including no conversion of valuable forest for new palm oil plantations.
The plantation site lies inside a globally recognized biodiversity hotspot between Korup National Park, Rumpi Hills Forest Reserve, Bakossi National Park and Banyang-Mbo Wildlife Sanctuary. These areas are all key habitats for primates, elephants, buffalos and many rare, endemic and IUCN Red-listed species of birds, animals and plants.
The global conservation group WWF was one of nine complainants to the Roundtable on Sustainable Palm Oil who alleged that Herakles had not followed RSPO guidelines on new plantings designed to protect high conservation value forest and community interests.
The complainants asked Herakles to carry out an adequate High Conservation Value Assessment of the entire 70,000 hectare concession area before development started. They also asked that the company address issues such as ensuring respect for land tenure rights, the implementation of the free, prior and informed consent process and transparent communications with stakeholders.
The Roundtable had asked Herakles to suspend clearing while discussions with the complainants were ongoing.
But in its August 24 letter of resignation to the RSPO, Herakles Senior Vice President Carmine Farnan wrote that the company was resigning because, "…the grievance process is preventing the company from moving forward during a critical and time-sensitive period, in which we must move our first planting of seedlings from the nursery to the field."
"This is a very sad day for Cameroon," said Basile Yapo, country director of WWF Cameroon, one of the complainant groups. "WWF believes that sustainable palm oil can be a reality in Cameroon but only if it is produced by responsible companies according to RSPO principles and criteria, supported by sustainable land use policies and involving local communities."
The other complainants are: RELUFA (Network for the Fight against Hunger Cameroon), SAVE Wildlife Conservation Fund, Centre for Environment and Development in Yaounde, the German Agency for International Cooperation, academics and researchers from the James Madison University, Duke University, the University of Goettingen and an independent environment consultant, as well as Greenpeace International.
The complainants allege that the Herakles development is in breach of national laws and regulations. They claim that because the proposed development area is surrounded by nationally protected forest, clearing can disrupt the ecological landscape and migration routes of protected species. They fear that clearance of these areas may result in loss of water resources and subsistence farming lands of local communities.
In a statement Wednesday, the Oakland Institute, in collaboration with Greenpeace International, warned that Herakles Farms, and its local subsidiary SG Sustainable Oils Cameroon, are involved in a 99-year land lease deal that is "questionable under Cameroonian Law" and "opposed by locals since 2010."
"The company negotiated conditions that are exceedingly favorable for the company, for example low rental rates and removal of all export duties for the next 99 years," the Oakland Institute and Greenpeace say.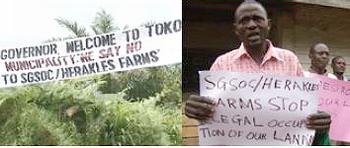 A protest in Toko village against SGSOC, June 2012. (Photos © Franck Bieleu / Oakland Institute)
The project "would deforest an area roughly eight times the size of Manhattan that serves as a vital corridor between five different protected areas," they warn.
"Being developed without the consent and adequate consultation of many local communities, this project exemplifies how the scramble for land in Africa threatens sustainable development and human rights," say the Oakland Institute and Greenpeace.
Evidence in the film "The Herakles Debacle," produced by the Oakland Institute, documents the scope of community resistance and forest destruction that will result from the project.
In its letter of resignation, Herakles VP Farnan said, "We remain committed to sustainable development and will continue to follow RSPO and IFC guidelines as our standards for any development related to oil palm."
"In addition," Farnan wrote, "we plan to work with NGOs, communities, local universities and the Government of Cameroon to establish oil palm development standards which reflect the needs of the people, environment and the country."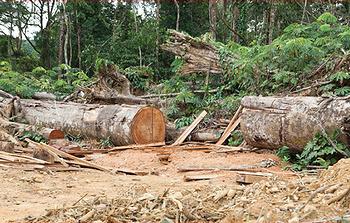 Timber left next to the Herakles Farms palm oil nursery in Fabe Village. (Photo © Jan-Joseph Stok / Greenpeace)
But Frederic Mousseau, author of the report and Oakland Institute's Policy Director, is skeptical, calling the Herakles approach "greenwash."
Herakles Farms' CEO Bruce Wrobel has established a nongovernmental organization, All for Africa, that he claims will bring additional development outcomes, through the use of palm oil revenues for the funding of development projects.
While All for Africa claims its goal is to plant trees, it is silent on the fact that the plantation will result in deforestation, loss of biodiversity, and the conversion of natural land and forests into a monoculture crop, its critics point out.
Frédéric Amiel, forest campaign leader, Greenpeace France, said Wednesday, "If Herakles Farms was really about supporting development and environmental protection as it claims, then it would not be ripping off Cameroonians under a contract where they pay as little as US$0.50 to US$1.00 per hectare per year. It would not be converting valuable rainforests into large-scale palm oil plantations. This palm oil plantation would wreak environmental havoc and dislocate communities who rely on the forests."
The Oakland Institute and Greenpeace support the demand from Cameroonian NGOs for a moratorium on new agro-industrial concessions until the country has developed a new approach to the granting of land concessions.
Adam Harrison, WWF International's representative on the RSPO Executive Board, said, "Forests in the green heart of Africa are vulnerable targets for expansion, as palm oil companies look beyond Indonesia and Malaysia for new land to expand palm oil production."
"WWF calls on investors to support only RSPO members who actively adhere to RSPO principles," Harrison said. "Investors should also encourage development on degraded land in order to avoid further negative impacts by the palm oil business on forests, species and people."
WWF supports smallholder production of palm oil, which is less efficient but better supports the local economy.
The ownership history of Herakles Farms is complex.
Herakles Capital, through its affiliate, Herakles Farms, LLC, "is involved in the design and implementation of sustainable agricultural projects, with a focus on sub-Saharan Africa," the company says on its website.
Herakles Farms, LLC is the General Partner of Herakles Farms, LP, the 100 percent owner of Herakles Farms Cooperatierf, U.A. (previously known as SG Sustainable Oils Cooperatief, U.A.), which has designed and is developing a commercial-scale palm oil projects on more than 200,000 acres (80,937 hectares) in West and Central Africa.
"Upon full implementation, the Herakles Farms palm oil investment will be one of the largest commercial palm oil operations in Africa," the company says.
Herakles Farms Cooperatierf, U.A. subsidiaries include: SG Sustainable Oils Holdings, Ltd., SGSO Ghana Holdings, Ltd., SGSO Cameroon Holdings, Ltd., SG Sustainable Oils Cameroon, Ltd. and SG Sustainable Oils Ghana, Ltd.
SG stands for Sithe Global, a New York based company involved in the development, construction, and operations of electric generation facilities founded by the company's current chairman and CEO Bruce Wrobel in 2004.
In 2009, Herakles Farms acquired 100 percent ownership of SG Sustainable Oils from Sithe Global, an affiliate of the Blackstone Group, a global alternative asset manager and provider of financial advisory services.
In addition to heading Sithe Global, Wroble also serves as CEO of Herakles Farms and heads the nongovernmental organization, All for Africa. All three organizations have their offices on the 40th floor of the same Park Avenue building in New York City.
Palm oil is an edible plant oil used as a cooking oil and as an ingredient in processed foods such as margarine and baked goods. Palm kernel oil is used in the cosmetics industry, and palm kernel waste is used as animal feed and in co-firing electricity generation. Palm oil also can be made into biofuel.
Globally, 50 million tons of palm oil are produced every year, 39 percent of the world's production of vegetable oils. Cameroon currently produces just 230,000 tons a year.
For more information, see reports on oil palm development in Cameroon by WWF and by the Oakland Institute. A documentary film produced by the Oakland Institute is found here.