A Declaration Recognizing the Rights of Peasants Is More Important Than Ever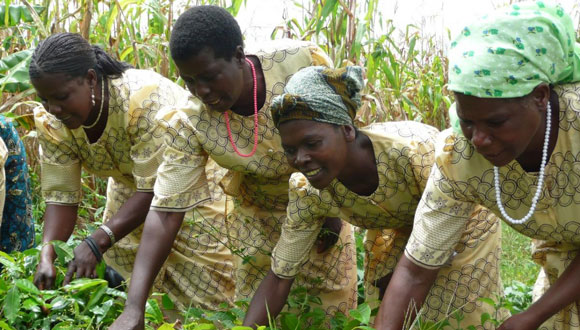 Geneva, Switzerland — Negotiations are underway this week with the Open-Ended Intergovernmental Working Group (OEIWG) on the text of a UN declaration on the rights of peasants and other people working in rural areas. Peasants and rural workers provide nearly 70 percent of the world's food supply, but are disproportionately impacted by poverty, malnutrition, climate change, environmental degradation, and face ongoing threats of displacement and criminalization. A UN declaration enshrining their rights would be a significant milestone for this group, which measures over one billion.
As a think tank that specializes in research and advocacy on land rights, food, and agriculture, the Oakland Institute has fought tirelessly to uphold the rights of peasants. Anuradha Mittal, Executive Director of the Institute, is participating as an expert at this week's negotiations.
"For the past 14 years, the Oakland Institute has raised international attention about the myriad human rights violations faced by peasants worldwide," commented Anuradha Mittal in Geneva. "From forced evictions to make way for large-scale agricultural investments in Ethiopia, to Maasai pastoralists losing their homes and livelihoods in the name of conservation in Tanzania, to the criminalization of land rights activists in Cameroon, we have seen firsthand the discrimination and marginalization of peasants around the world. The UN Declaration on the Rights of Peasants is an urgently needed instrument to both protect and defend their lives, livelihoods, and land rights."
The current text of the declaration enshrines many essential rights of peasants, including their rights to land, clean water and sanitation, housing, seeds and seed saving, and more. It also outlines a vision of active participation by peasants in decisions that impact their lives. This includes the importance of free, prior, and informed consent, but takes this notion further by seeing peasants as the drivers and beneficiaries of their own development.
"Time and again, we've seen governments, multilateral institutions, and investors embark on so-called 'development' projects that not only ignore the voices of peasants, but destroy their lives, livelihoods, cultural traditions, and threaten local ecosystems," commented Mittal. "We need a declaration that outlines a new way forward — one where peasants are not only at the table when it comes to decisions and projects that affect them, but where their ideas, knowledge, skills, and culture take center stage."
Recognizing that those who promote and protect land rights often face prosecution and intimidation, the draft declaration calls for the right to life, liberty, and security of person along with access to justice, a right that is repressed in many regions, as evidenced in much of the Oakland Institute's work. This is essential, as in the face of ongoing large-scale agricultural investments, numerous indigenous leaders and land rights defenders have been criminalized and arrested for speaking out and standing up for their rights. In addition, in 2015 an estimated three land rights defenders were killed each week.
The draft declaration promotes the realization of the principles proclaimed in a number of international conventions and instruments adopted in the past such as the Charter of the United Nations; the Universal Declaration of Human Rights; the International Covenant on Civil and Political Rights; the International Covenant on Economic, Social, and Cultural Rights; the Declaration on the Right to Development; and the Convention on the Rights of the Child, amongst others. The declaration would uphold these essential rights for the most marginalized and poor communities.
"We have a historic opportunity with this declaration to ensure peasants' access to vital resources, such as land, water, and seeds," commented Mittal. "Recognizing this access as a right is essential, especially as in recent years land grabbing has continued, numerous land rights defenders have been murdered or arrested, and the displacement of rural communities is ongoing. Time is of the essence — a declaration recognizing the rights of peasants is more important than ever."
###