Wall Street Wants Our Food System
By:
Guess what? Wall Street doesn't just want our rent checks, our infrastructure, or our public schools. It wants our food system as well. 
Just look at the billions pouring into farmland from some of the deepest pockets in the financial sector. Rising interest from institutional investors such as hedge funds, pensions, and private equity firms is changing farmland from a mostly overlooked asset class into a potential global bubble. And, although media attention often falls on land deals in the developing world that are corrupt or even violent, the truth is that the global land rush is also being felt at home in rural communities across the US—and its effects on everything from farm access to food security could be immense.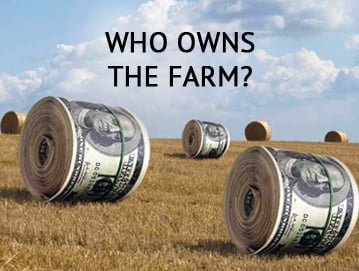 With giants like the New York-based pension TIAA-CREF leading the charge, there is an estimated $10 billion in institutional capital looking for access to US farmland. But what has the industry openly salivating is the fact that over the next two decades, the US will encounter an unprecedented crisis of retiring farmers that will free up 400 million acres, or nearly half of all the farmland across the county. This means that investors will have a massive opportunity to expand their holdings—precisely at a time when a series of seismic ecological and economic shifts make it an exceptionally good investment. 
Although it sounds counter-intuitive, climate change is a major incentive for investors. The assumption is that if extreme weather continues to disrupt global food supplies, then owners of prime farmland with reliable access to water will be rewarded, even if the consequences for everyone else will be higher food prices. Gambling on hunger or even famine in the future is questionable from a moral perspective, but right now the industry doesn't seem especially worried about bad publicity. In a recent report from Aquila Capital, a leading asset manager based in Germany, a majority of surveyed investors had no problem citing climate change and the global depletion of farmland as their two biggest reasons for jumping into agriculture.
Continuing fallout from the global financial crisis is another factor. Five years on, investors are still looking for safe places to stash capital in the face of volatile financial markets and a timid economic recovery. This is spurring a move toward so-called real assets, which can include everything from commodities like oil and gold to real estate like convention centers and, yes, farmland. This creates a strange dynamic where land is sought less because it can produce food and more because it can absorb capital that can't be profitably used elsewhere. 
If you add in a growing global population and increasing demand for meat products and biofuel, suddenly farmland seems like a much safer bet than the garbage derivatives that tanked the economy half a decade ago. But what would it actually mean if the financial sector suddenly became the custodian of millions of acres across the US?
For one thing, it would mean a more aggressive approach to what analysts call "higher and better" uses for farmland—a euphemism for ways to extract nonagricultural profits from agricultural land. One property, owned on behalf of a pooled group of investors by the Swiss bank UBS, is already being used for wind power generation. Another property, owned by the state pension system of Alaska, has been leased for oil and gas drilling in Weld County, Colorado, debatably the national epicenter of the controversial hydro-fracking craze. 
Another consequence would be a boom in business for agribusiness middlemen. Since investors are hardly farmers, they must trust the land to tenants and other professional managers, even though sometimes these contractors can prove less than trustworthy. In one notable case, the pension fund for the police and firefighters of Dallas, Texas bought an apple orchard in Washington state through their investment manager, the powerful Hancock Agricultural Investment Group. As part of a class action lawsuit implicating several Hancock properties, it was later revealed that the orchard was leased first to one contractor, and then sub-leased to a second contractor. According to court documents, this final contractor not only lied to more than 650 farmworkers about pay and working conditions; it also hired a foreman who carried a gun to work and occasionally shot it menacingly at employees.
But perhaps the biggest change is coming to our plates, as investors seek to capitalize on globally competitive agricultural goods. Luxury crops like almonds, pistachios, and wine grapes that are popular in East Asia's rising economies are some of their biggest targets, and a relatively weak US dollar only encourages this export mindset. In California, Hancock has not been shy about bulldozing permanent crops if market conditions change or earnings disappoint. In one case, it bought a ranch from a retiring farmer that had mainly grown alfalfa, mostly as feed for dairy cows within the region, and reportedly transferred the operation to Timothy, a high-fiber grass preferred for race horses that is exported mainly to the Pacific Rim and the Middle East.
The food justice movement, which is at work everywhere from urban food deserts to GMO labeling fights, needs to take this seriously. We cannot build vibrant local and regional food systems without building a new generation of farmers. The problem is not that there is no enthusiasm; the problem is that scarce credit and record-high farm prices are keeping the most enthusiastic beginners off the land. This means that new institutions and policies must be crafted to ensure that farmers, and not absentee investors, are the future of our food system. There are opportunities for supportive tax initiatives in individual states, and at the federal level promising reforms are struggling through Congress with partial bipartisan support. But the future of this fight is probably at the grassroots. A robust infrastructure that links young farmers with the retiring generation, provides training in how to navigate conventional and unconventional lending sources alike, and secures market access for sustainable foods is the only way to answer the global land rush.
If we don't do this, then Wall Street may just make a killing on our agricultural heritage.
Tell us what's going down on your farm! 
We want to hear from you! As Wall Street makes a big move into farmland, we're calling on farmers from across the country to share your experience of working the land.
Tell us about what's happening in your community, whether you're an independent farmer in the Midwest, farming land under contract, or an aspiring young farmer. What's your perspective? As institutional investors are becoming a major force in agriculture, we want to hear from those on the front lines about your struggles and successes and what your day-to-day is like as a farmer.
Contact us at [email protected] to share your story. 
* Lukas Ross is a Fellow at the Oakland Institute and authored the report, Down on the Farm.