The Release of Ethiopian Political Prisoners: Stifled Voices amidst False Promises
By:
Voices of Current and Past Ethiopian Political Prisoners and Their Families

"I don't know how the government defines political prisoner. Are they only people who are members of political parties, and who have been sentenced under the anti-terrorism law? What about other people who have been arbitrarily arrested for merely criticizing the lack of governance and democracy in the country"

"The focus on political prisoners is often centered on those in prisons in Addis Ababa, like Maekelawi, Qilinto, Kaliti, and others. But there are political prisoners in other facilities across Ethiopia."

"Based on Ethiopia's context, I define political prisoners as those who are behind bars because they opposed the government's dictatorial acts. These are politically motivated arrests towards people who oppose the ruling party."

"Some of those people are arrested because of what they wrote on social media, for telling the world about the horrific acts of the TPLF/EPRDF towards Ethiopian citizens."

"Political prisoners are not just those who are part of opposition parties; they are courageous individuals who dared to speak out on behalf of their people and demand their democratic rights."

"We must always remember the people outside of Addis, from marginalized communities, who are in jail for standing up and resisting government programs that took away their land."

"Those who have been forgotten, whose voices are not being heard, and who are behind bars for speaking out on behalf of their people. People in Gambella, Benishangul-Gumuz, the Lower Omo Valley, and other places, who still remain invisible."
For years, the Ethiopian government has denied that there are political prisoners in the country. This is despite its consistent use of the draconian Anti-Terrorism Proclamation to stifle dissent and detain thousands of politicians, journalists, religious and indigenous leaders, and students.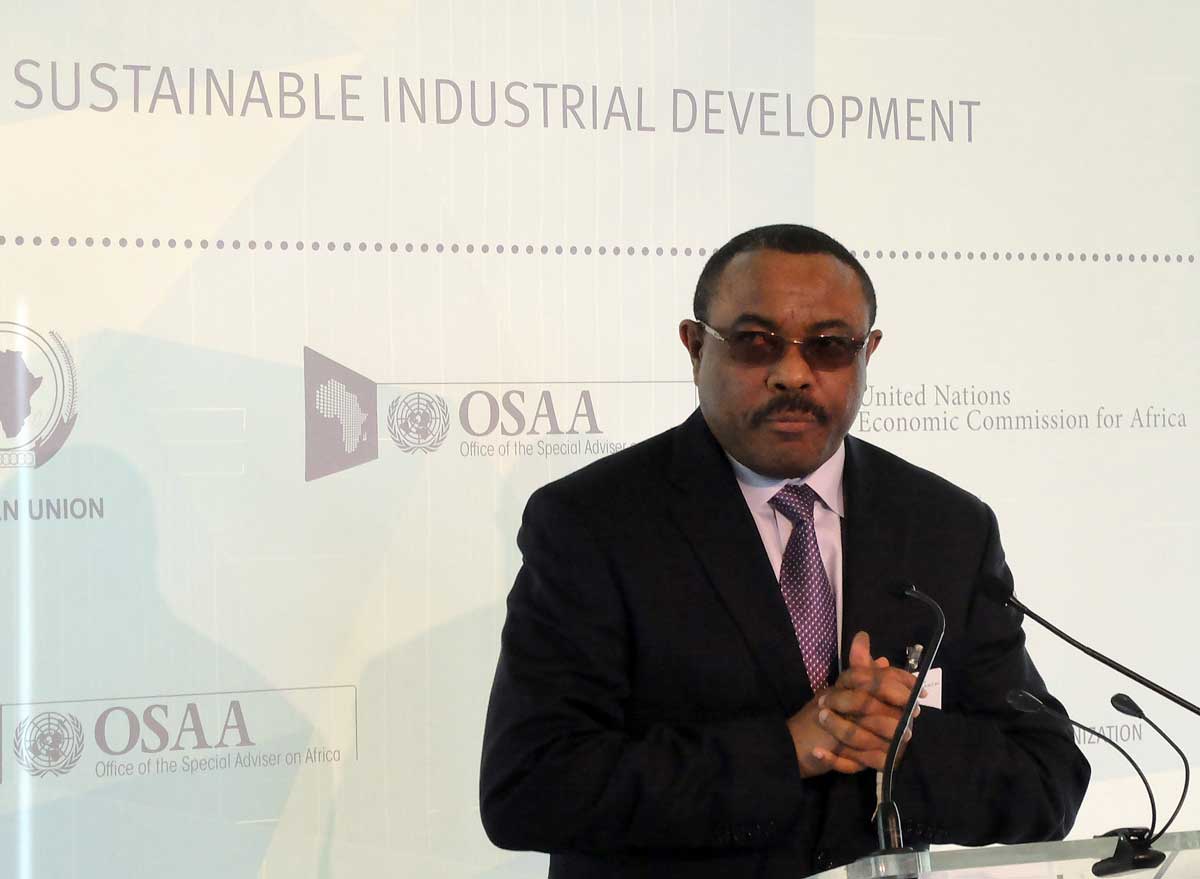 Thus, Prime Minister Hailemariam Desalegn's recent announcement that some political prisoners would be released, sparked a mixture of relief and confusion: relief that the government was finally acknowledging and releasing political prisoners in the country; and confusion over who would be freed, and what the announcement really meant.
Uncertainty Continues after Prime Minister Desalegn's Announcement
"The government says it will close Maekelawi, but this closure doesn't stop the current government from torturing people."
This uncertainty has continued. A week after the announcement, prominent Ethiopian political prisoner Bekele Gerba was sentenced to an additional six months in jail for singing a protest song during his court proceedings. Gerba, the Deputy Chairman of the Oromo Federalist Congress, was arrested in his home in December 2015, just months after spending four years in prison for meeting with Amnesty International researchers. Gerba was granted bail in October 30, 2017, but it was revoked two days later.
Then on January 15, it was announced that charges against 528 persons currently in detention would be dropped. Most of them, including prominent political prisoner Merera Gudina, appear to have been released on January 17.
Detention of Indigenous Leaders Continues
"The government must release all Ethiopian political prisoners and I am sure when they take action to release the prisoners I will be included. We keep hoping for that success. They also said that the torture place will be closed and turned into a museum. I hope I will visit it one day to see the dark room where I stayed for one month without seeing sunlight."

"For four years, my father has been in jail in Ethiopia. At first they charged him as a terrorist, simply because he told the world about a massacre that the government committed in our community when I was a young boy. Over 400 people died during that event. My life and my father's life could have ended that day, like the lives of our friends and relatives. But we were spared, and we fled Ethiopia."

My father continued to speak out against the bad things that were happening in Gambella. It is for bringing attention to these issues that the government took him away and arrested him. He spent time in Maekelawi. He was tortured there. The government says that torture only happened there under the Derg, but I know this isn't true."

"The government says it will close Maekelawi, but this closure doesn't stop the current government from torturing people. The torture that has taken place there was not only during the Derg, it's under this regime too."

"I have seen people being brutally treated there firsthand – humiliated, beaten, choked, electric shocked, not allowed to see their families, and more. I don't see any guarantee that they are going to change anything they are doing just because they close this building."
However, this is not the time to celebrate given that thousands of others remain in jail. Ethiopia's anti-terrorism law and other draconian legislation like its civil society proclamation are still in place and widely used to intimidate and repress.
Most importantly, the repressive system is not just about barring political freedom; to a large extent, it is about ensuring the control of a minority over the resources of the country and the benefits of the economic development. Many political prisoners in Ethiopia are not just members of opposition political parties but ordinary citizens who oppose the grabbing of their land and natural resources by the government.
Many are members of indigenous communities such as the Anuak, Bodi, Mursi, and other marginalized groups who spoke up against land grabbing and for the rights of their people to decent livelihoods and life with dignity. Thousands are still being held by the regime in facilities across the country though the actual number is unknown given the general opacity surrounding such matters.
Closure of Maekelawi Prison Doesn't Guarantee End of Torture
"There has been public resistance in Ethiopia, and I think this pressure made them release this statement. They want people to calm down. But what the people of Ethiopia need is freedom and absolute change in the political arena. They need something practical – not just theory and words. They need democracy, they need to have the right to use their land, they need their voices to be heard."

"I believe all people – including all people in Ethiopia – deserve to live, be treated with respect and love, and not have their rights taken away."

"I hope that the government lives up to its promise, and releases all political prisoners in the country. I hope they release my father, and that my family, and all the other families affected by this government, can finally come together again. I hope this will help heal the wounds of Ethiopia."
"I hope they release my father, and that my family, and all the other families affected by this government, can finally come together again. I hope this will help heal the wounds of Ethiopia."
We must also scrutinize the Prime Minister's announcement to close the notorious Maekelawi police station. The government said this closure is because Maekelawi was used as a place of torture under the previous Derg regime, insinuating that torture no longer takes place there. But, as numerous studies have documented, torture is rampant at Maekelawi and prisons across Ethiopia and, as stated below by those who have suffered at the hands of this government, its closure does nothing to guarantee that these abuses will halt.
In the course of the Oakland Institute's work on land rights and development issues in Ethiopia, we have met or come to know many of the victims of this repressive system. We reached out to several current and past Ethiopian political prisoners and their families to hear their perspectives on the recent announcements made by the government. We share and amplify their voices here, and echo their calls for justice. Given the ongoing threats to themselves and their families, names have been withheld to protect their identities.