Rainforest or the Illegal Logger – Who is Really Under Threat in Papua New Guinea?
By:
"The forestry industry is on the brink of disaster" warned Bob Tate, the head of the Papua New Guinea Forest Industries Association (PNGFIA) on November 22, 2017. According to Tate, a spokesperson for the logging companies clear cutting the forests of Papua New Guinea (PNG), increase in log export taxes put in place by the government this year, combined with low international prices for tropical timber, are putting the industry at risk.
Is the forestry industry in PNG really "on the brink of disaster" or is Mr. Tate just delusional?
One may legitimately question Tate's credibility given he works for an industry that is far from transparent in its operations and notoriously involved in a number of illegal activities in PNG, including misrepresentation of financial returns.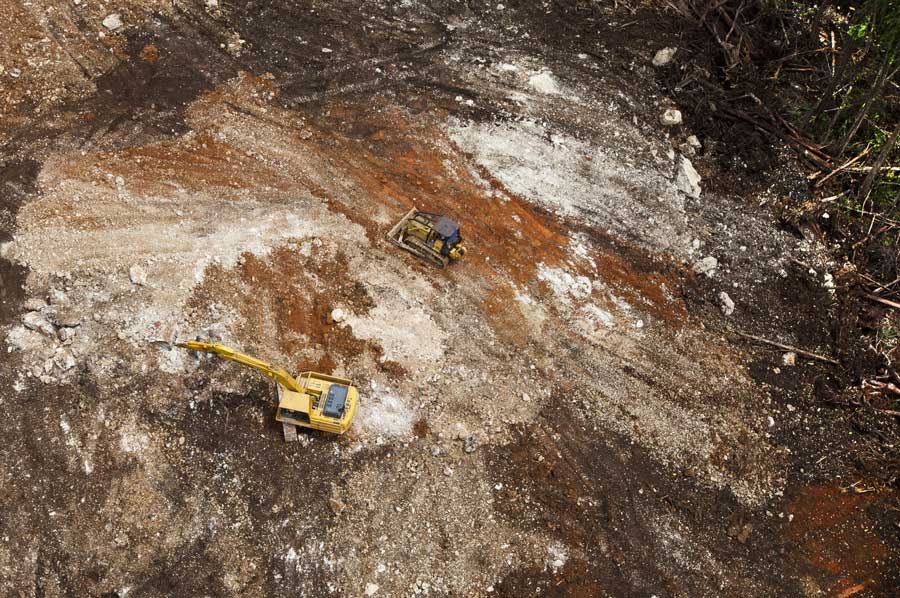 Tate laments the increase in the log export tax, which was announced by the government in November 2016 following the Oakland Institute's exposé that brought forward evidence of massive tax evasion by logging companies.
The Great Timber Heist: The Logging Industry in Papua New Guinea alleged that financial misreporting by logging companies resulted in nonpayment of hundreds of millions of dollars in taxes—vitally needed revenue for the country. Despite decades of operations in PNG, logging companies barely declare any profit as evidenced by the official tax filings of most firms that report losses year after year. Not responding to requests for interview, Mr. Tate never explained why these companies are still in business if they don't make profits. Tax evasion allegedly occurs through transfer pricing—underpricing exports and overpricing expenses–and the systematic use of a web of subsidiaries and off-shore companies based in tax havens.
Forest Industry in PNG: Ignoring Laws, Receiving Preferential Treatment
A 2006 comprehensive review commissioned by the PNG government already revealed that the "industry is allowed to ignore PNG laws and in fact gains preferential treatment in many cases, while the rural poor are left to suffer the social and environmental consequences of an industry that operates largely outside the regulatory system." Nothing seems to have changed since this review given the Commission of Inquiry that looked into the Special Agriculture and Business Leases (SABLs) revealed in 2013 that the majority of the land deals were granted illegally, without proper informed consent, or were granted under threat, intimidation, or bribery. The Oakland Institute's field research confirmed that SABLs land deals – widely used by logging companies – involved all sorts of irregularities, including faked signatures and coercion or sheer bullying of communities.
Tate warns of a significant decrease in volumes of logs exported in 2017 compared to previous years. But he fails to mention that this drop comes after the massive surge of exports in recent years, which saw PNG surpass Malaysia as the first exporter of tropical wood in the world. The recent surge was largely due to the extension of logging to new areas under SABLs, a scheme that the country's prime minister, Peter O'Neill described as being flawed with shocking corruption and mismanagement.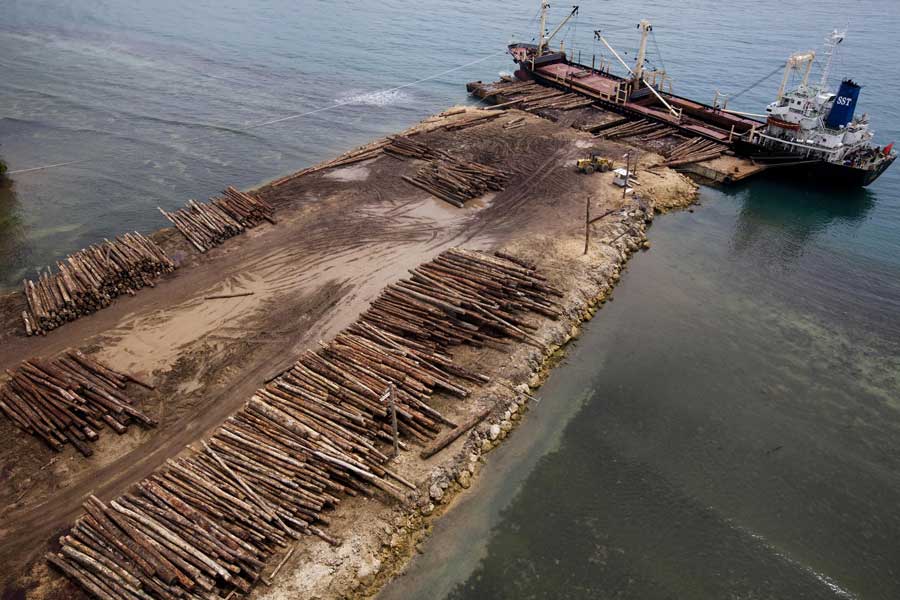 Where is the 'Industry' in the Logging Industry?
Beyond the trustability of Mr. Tate's warning, a more fundamental question for the country is actually whether logging should actually be considered at all as an 'industry.' After all, logging in PNG involves hardly any infrastructure or processing as over 90 percent of the wood is exported as raw logs. The way logging companies operate demonstrates well how little 'industrious' logging activities are. Logging operations typically create temporary logging ponds in selected spots along the shores that allow loggers to unload their machines, bulldoze their way into the forests, and load the trees back on cargo ships headed to China.
Eliminate Raw Log Exports
Tate says that the sector has recently lost thousands of jobs and warns that 'the worst may yet to come'. However he fails to provide any evidence to back his claims, which is not surprising given the opacity and total lack of accountability of the logging companies in PNG. As witnessed by our researchers on the ground, most of the machine operators and truck drivers are actually foreigners who come to the country for this daylight heist.
One way to make forestry a real industry in PNG and to take employment concerns seriously would be for the country to move on the government decision that was announced in 2009, though never implemented, to eliminate raw logs exports. The goal of this measure was to promote local processing of wood in order to boost the local economy, create jobs, and increase the value of the wood exports through local value-adding transformation. The measure would also result in a drastic drop in the volumes of trees cut and stall the fast depletion of PNG forests seen in recent years. However, this has been nothing more than wishful thinking, given that the exports of raw logs have increased dramatically since 2009 and wood processing never took off. In a media release responding to a report by the Oakland Institute in April 2016, the Forest Minister indicated that the ban on the export of unprocessed logs may be enforced by 2020.
If logging companies were genuinely concerned about jobs, they should immediately take steps to start investing in wood processing rather than just exporting raw logs. Meanwhile, the government of PNG has the responsibility to make sure that the ban on raw log exports suffers no further delay so that Papua New Guineans can start truly benefitting from their natural resources instead of witnessing the continued destruction and pillaging of their forests.